Duck Commander & Buck Commander Endorsed Land Broker

RecLand and

Duck Commander

® &

Buck Commander

® - A Winning Team
RecLand Realty has teamed with Duck Commander® and Buck Commander® to become the Duck and Buck Commander Endorsed Land Broker for Louisiana, Arkansas, Mississippi, Texas, Iowa & Missouri. RecLand has specialized in selling hunting land, timberland and farms since 2010 and has quickly become a leading land broker in the southeast. Our growing team of 20-plus land agents offers a variety of experiences and unique knowledge to help our clients make the best buying and selling decisions with land. RecLand has foresters, farmers, ranchers, outdoorsmen, investors and business people serving our clients. RecLand's laser focus on rural real estate, and its commitment to the outdoor lifestyle and outdoor industries, blend perfectly with the Commander companies and their people and products. RecLand is proud to be associated with Duck Commander® and Buck Commander® !


Duck Commander is a family-owned and operated business that was established in 1972 by Phil Robertson and based in West Monroe, Louisiana. What once began as a duck call centered company has grown into a multi-million dollar empire. Duck Commander products, which now include much more than just duck calls, have been sold in all fifty states and in several countries and encompasses lifestyle brands including Duck Commander duck-hunting merchandise, Buck Commander deer-hunting merchandise, Duck Commander Family Foods, and Duck Commander Kitchen. Each of the Duck Commander brands was created with a focus on bringing family together. It is their motto of faith, family, and ducks that has resonated with fans at their speaking engagements and on the No. 1 cable show "Duck Dynasty." Their perseverance, business savvy and knack for storytelling also landed them at the top of the New York Times' Best Sellers list four times with titles "The Duck Commander Family," "Happy, Happy, Happy: My Life and Legacy as the Duck Commander," "Sicology," the wives' "The Women of Duck Commander " and "Good Call ". Last fall the family celebrated their first venture into music with a No. 1 debut of their Platinum selling, Billboard Awards nominated holiday album Duck the Halls: A Robertson Family Christmas. You can get more information by visiting their website Duck Commander.


Buck Commander was formed in 2006 by Willie Robertson of the A&E series Duck Dynasty and MLB superstar Adam LaRoche. It has since evolved to also include current and former MLB stars Ryan Langerhans, and Tombo Martin; and country music superstars Luke Bryan and Jason Aldean. These are guys who are at the top of their profession, and now fans are able to see them pursue their passion for deer all over the country for their show, Buck Commander Protected by Under Armour on Outdoor Channel. Whether they are laying down big bucks or entertaining with a variety of camp antics, the Buckmen strive to bring a whole new generation to hunting. To learn more, go to the Buck Commander website.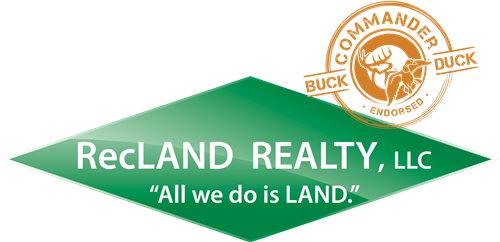 Contact Our Office
318.281.4900
office@recland.net
410 Olive Street. Monroe, LA 71201
Call or email us today. Our land agents will be happy to discuss with you how RecLand can market and sell your land in Louisiana, Arkansas, Mississippi, Texas, Iowa & Missouri.
Latest News